Computer
Technology
How the Intel Core i7-1165G7 chipset performs on the Evo-certified HP Envy X360
It's been a year since Intel announced its Core i7-1165G7 quad-core chipset, and the company is expected to launch its Alder Lake chipsets in the coming months. Here's a closer look at the performance of the Intel Core i7-1165G7 on the Evo-certified HP Envy X360 convertible laptop.
Intel's Alder Lake chipsets are expected to launch in the next couple of months, just over a year after the company launched its 11th-Gen Tiger Lake Series processors that are currently found on laptops and desktop computers today. The company is still offering 10nm chipsets in 2021, while AMD and Apple have moved on 7nm and 5nm processors that offer better performance and power efficiency. The upcoming Alder Lake series is also expected to feature the same 10nm tech, instead of the Intel 4 technology node that will bring 7nm at a future date.
Last year, when Intel announced the Tiger Lake mobile processors, the company also revealed the blueprint for its Intel Evo initiative, a rebranding of the company's Project Athena. It allows manufacturers to ship devices with an Intel Evo branding, if they match certain hardware specifications from Intel. These are aimed at creating better, longer-lasting thin and light laptops. This means Intel Evo certified devices must offer adequate responsiveness, over 9 hours of battery on full HD resolution, waking from sleep in under a second, fast charging, Wi-Fi 6 and Thunderbolt 4 support.
We recently took a look at the Dell XPS 13 (9310) that sported the Intel Evo certification (read it here) and see how the device performed with the Intel Core i7-1185G7 chipset under the hood. We found that the ultrabook was capable of handling most tasks with ease, while the Intel Iris Xe graphics also offered impressive performance. Today, we're taking a look at the HP Envy X360 that was released earlier this year bearing the i7-1165G7 chipset, to see how it performs with Intel's best certification for laptops.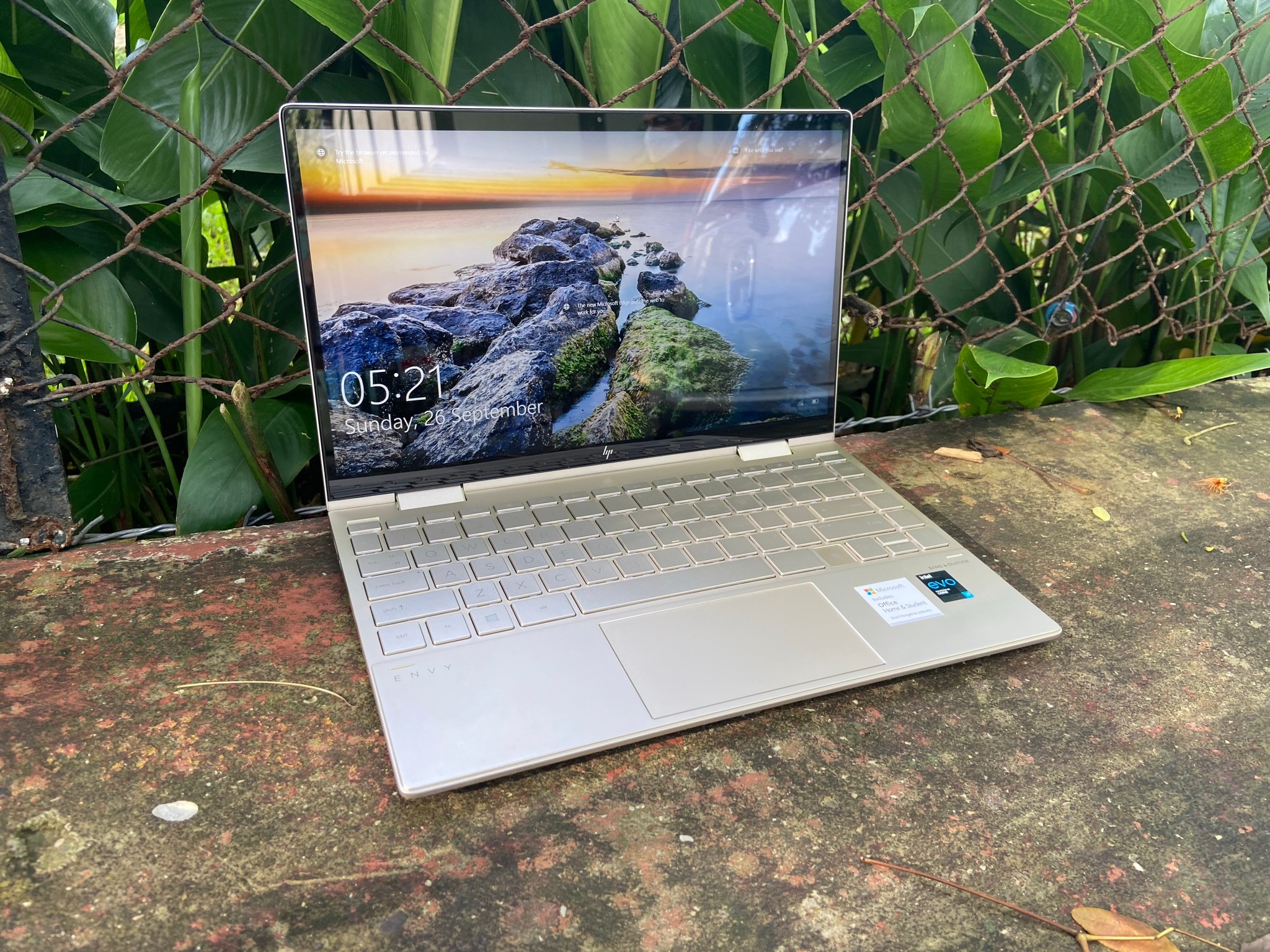 Also Read: Facebook Says it's Pausing Effort to Build Instagram for Kids
Hardware features
Intel provided us with an HP Envy X360 convertible ultrabook, which is powered by the Intel Core i7-1165G7 chipset that is Evo certified. This laptop comes with four Hyper-threading enabled Willow Coves at 2.8Ghz clock speed at 28W TDP, with boosting up to 4.7 GHz on a single core and 4.1 GHz on all cores. This chipset is a little slower than the Intel Core i7-1185G7 we recently tested on the Dell XPS 13 (9310) but the difference isn't very large, at least on paper.
According to Intel, the second-generation 10nm SuperFin process for its chipset should be comparable to the 7nm Ryzen 4000 chipsets and offers support for PCIe Express 4.0 and dual-channel LPDDR4x-4267 and DDR4-3200 RAM. Since this laptop is Intel Evo certified, you get support for Wi-Fi 6 connectivity out of the box, while USB4 Type-C and Thunderbolt 4 support is also present. We will address other aspects like battery life at a later stage, but this device comes with a 51Wh Li-ion polymer battery. We performed an OS 'reset' to the factory defaults and left all the settings on the device unchanged before testing the device.
CPU and graphics performance and benchmarks
It's going to be a while before customers will see 7nm chips from Intel, but the company's SuperFin design is supposed to provide a capable upgrade over its predecessors. This means that if you have a Core i7-10810, Core 17-10610U or the older Core i7-8559U chipset, you should see improvements on the newer Core i7-1165G7.
The HP Envy X360 running the i7-1165G7 chipset scored an average of 1490 points for single-core performance on Geekbench with an average score of 4630 points for multi-core performance. These scores put it on par with the Ryzen 7 5800H and Ryzen 5 5600H chipsets. When it comes to multi-core performance, however, the Intel Core i7-1165G7 is outclassed by both the Ryzen 7 4700U and the Ryzen 7 4800U. On Novabench, the laptop managed a score of 2245, while running at 1.48 GHz – comprising a CPU score of 1278 and GPU score of 403.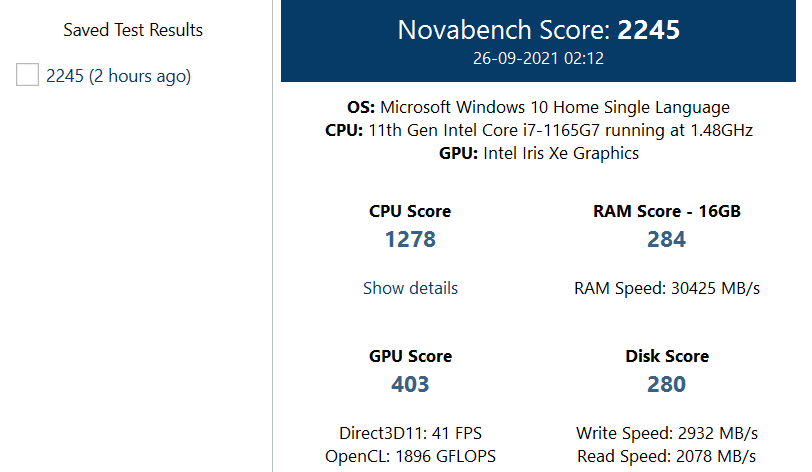 When it comes to graphics, the Intel Core i7-1165G7 on the HP Envy X360 comes with the Iris Xe Graphics G7 iGPU, which is faster than the previous generation Ice Lake and can handle graphics tasks like processing 4K videos with ease – it's ahead of the Ryzen 7 4700U, according to PCMark's database. PCMark 10 gave the Core i7-1165G7 a score of 9930, ahead of the 9190 score for the Ryzen 7 4700U. On Geekbench, the HP Envy X360 scored an average of 15750 for the OpenCL Score.
The Core i7-1165G7 runs applications like Photoshop, Microsoft Office and day to day work applications that require hardware acceleration very well, better than rivals like the AMD Ryzen 4700U processor. However, the multi-thread performance for applications like Blender, Handbrake and other applications is no match for AMD's offering, which is understandable given the core count difference.
The HP Envy X360 is not a gaming laptop, but it can handle titles like Fortnite and Black Mesa rather well. The Iris Xe graphics performance does not disappoint when you're exporting videos, performing tasks on Photoshop or even converting videos using the HEVC codec, even though it is slower than its Ryzen 7 counterparts. On Novabench, the device matched the Ryzen 7 4700U (from the benchmark database) and was able to manage a stable 40 FPS while running a Direct3D11 sample at 720p.
Benchmarks versus real-world performance
On the review unit, the Intel Core i7-1165G7 processor is able to handle a variety of day-to-day tasks, while keeping the system chugging along rather nicely. For a chipset that was announced a year ago, the i7-1165G7 was able to juggle over 70 tabs that we keep open on a daily basis, with LibreOffice documents open. This is also an excellent entertainment device, since the screen can flip all the way back allowing you to use it as a tablet with the included HP stylus.
When it comes to network connectivity, the HP Envy X360 which is powered by the Intel Core i7-1165G7 chipset had no connectivity issues and we did not experience any network drops or problems connecting to our router. Battery life was also quite reliable — this laptop lives up to its Evo Certified claim of offering over nine hours of battery life, we averaged nine to nine and a half hours while working on documents and browsing the web — and typing this article.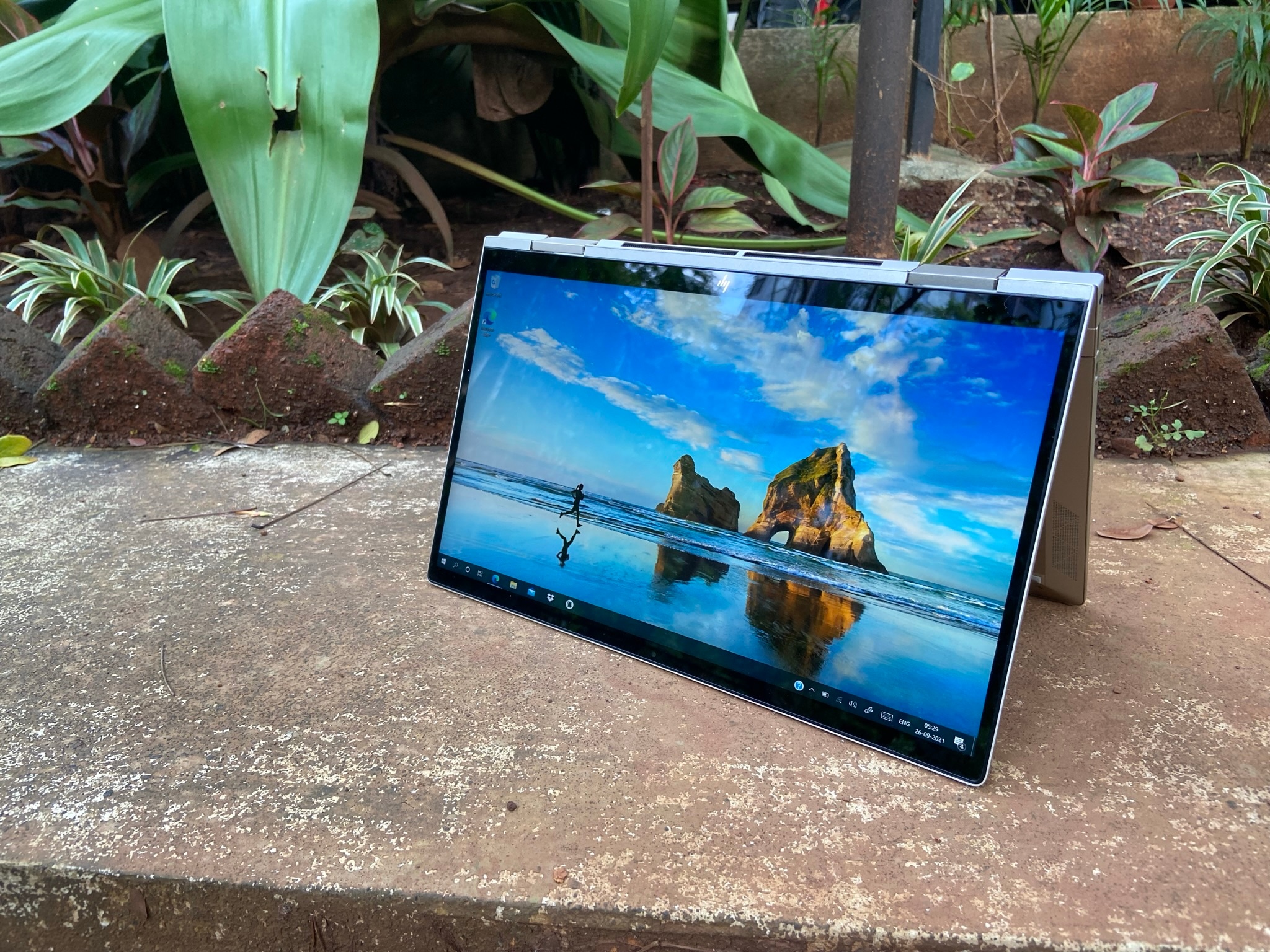 What we think
The Intel Core i7-1165G7 on the HP Envy X360 comes with improvements over the older previous generation Ice Lake CPUs, but the gains are mainly on the high power configuration which is at 28W. If you need an ultraportable laptop that comes with a processor that can handle tasks like Microsoft Office, browsing the web, using apps like Photoshop and so on, then the Core i7-1165G7 offers better performance than the Ryzen 7 4700U. If your work involves using apps like Blender, Handbrake, or Shotcut — or if you want a device for coding and development, the chipset falls behind the Ryzen 7 4700U, which offers better multi-core performance.
As a result, it really comes down to what you need from your laptop, and if you need adequate single-core CPU performance, the Core i7-1165G7 is more than enough for most users needs. There's no doubt that devices that run these processors cost a lot of money, but there's a lot to like about their performance when it comes to day to day tasks. If the HP Envy X360 is too expensive at ₹1,04,999 then the Asus Vivobook S S14 and the Asus Zenbook 14 offer the same chipset, minus the Intel Evo certification, at a lower price.
While using the HP Envy X360 powered by the Core i7-1165G7, we didn't notice any stutters, lag or drop in performance, no matter what we threw at it. The Intel Evo certification means users can take advantage of Wi-Fi 6 and Thunderbolt 4 support, good battery life on Full HD resolution and quick wakeup, which are all handy things to have on an ultraportable laptop and make devices running the Intel Core i7-1165G7 a good choice, for those can afford and need a good mix of performance, portability and battery life.
Disclaimer: This story is auto-generated by a computer program has not been created or edited by Digitechify. Publishers: Hindustantimes.